Historic Luxury In A Setting Of Timeless Beauty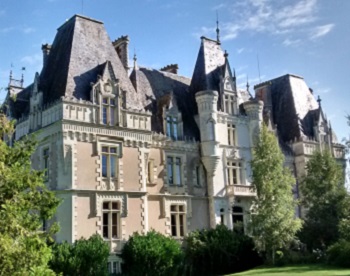 Located in the verdant Loire Valley of Northwestern France, Chateau Allure du Lac is a luxurious one-of-a-kind estate. One of the most beautiful chateau rentals in France, this private paradise features its own 22 acre lake and private island, forests full of wildlife and walking trails, beautifully manicured gardens, majestic lawns, terraces and a swimming pool. This chateau rental also has an attached chapel that is perfect for weddings or vow renewals. This chapel resplendent with gilded oak, breathtaking stained glass, and vaulted ceiling. Chateau Allure du Lac can help arrange all of the services needed for a wedding such as hair and makeup, flower arrangements, photography, etc.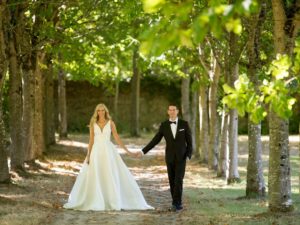 Another wedding venue on this magnificent property is the private island with a tree canopy that filters the sunlight for a cathedral-like effect. After the vows, you and your guests can repair to the lakeside terrace with dancing under the stars awaits.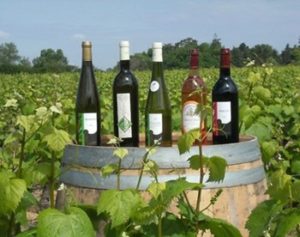 The Chateau Allure du Lac is conveniently located near Grez-Neuville, which is recognized as one of the prettiest villages in the French Loire Valley. It is twenty minutes away from Angers, France. Only eighty-five minutes away from Paris via the TGV, Angers is home to wonderful shopping and local eateries and wine. For those looking to fly in closer to the chateau, there is an international airport in Nantes, which is only about an hour away.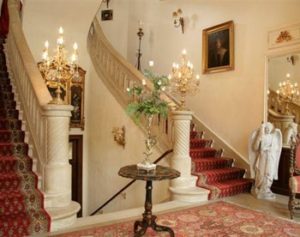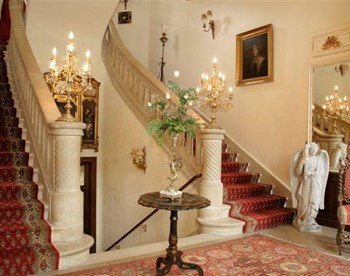 Recently renovated and redecorated, the interior of this chateau offers a regal experience. This warm and welcoming estate has many lavish features such as a stone carved double staircase in the entry hall, high ceilings, rich wood paneling, Each room is filled with antiques and luxurious fabrics, and all of the bedrooms have en suite bathrooms.
Each room has its own unique atmosphere-the drawing room, with its majestic wood burning fireplace, private terrace, and original oak paneling is a perfect setting for pre-dinner drinks or late night gatherings.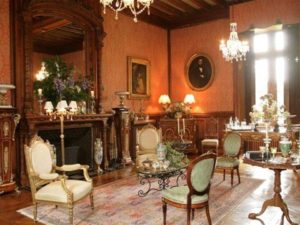 Suited to gatherings both large and small, the stately Grand Salon will dazzle your guests with huge windows, vintage oak linen paneling, parquet floors, and a massive mirrored fireplace mantle.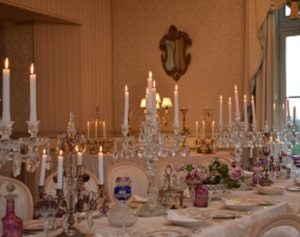 Chateau Allure du Lac has a number of dining areas suitable for parties both large and small, group dinners, and romantic tête-à-têtes. The Silver Reception Room can host large parties-it has elevator access for guests and high speed dumbwaiters that connect to the state-of-the-art catering kitchen two floors below. For less formal occasions, our country style dining room and outdoor terraces offer a relaxed dining experience. For an extra charge, Chateau Allure du Lac can arrange for some or all of your meals to be catered in great style.  Delicious breakfast, lunch and dinner can be enjoyed in one of the dining rooms, in the gardens, or on the lakeside terrace.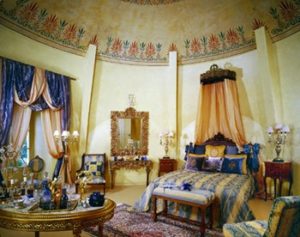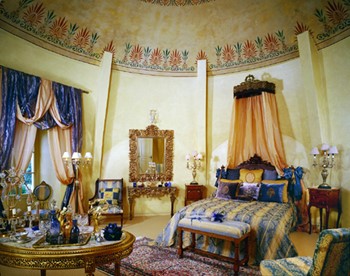 When the day is over, retire to one of our fourteen beautifully appointed bedrooms with private bath. Each bedroom is unique in its choice of furniture and color layout. From romantic to relaxing, our bedrooms will match your mood, and our beds are so comfortable, you may not want to get out of bed!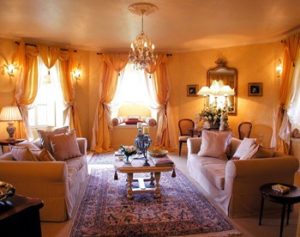 For the ultimate experience, we have The Tower Suite. The Tower Suite is a two-story fairytale with private drawing room, entry, and oak staircase the takes you to the en suite sleeping area covered with the original dome ceiling that was painted by hand.
If there are children in your party, we have four bedrooms that we will be happy to arrange to be child-friendly with breakable items put away.
If fourteen bedrooms are not enough, a three-minute walk through the chateau grounds leads to two apartments with five more bedrooms. While not decorated at the same level of Chateau Allure du Lac, they offer a very affordable way to house more guests.
We pride ourselves on giving our guests exactly what they desire so their visit will be a very memorable experience. From small groups to large gathering of hundreds of guests, please contact us at Chateau Allure du Lac so we can discuss your exact needs.
Our accommodations, grounds, and service get rave reviews. Please click here to see what our guests say about Chateau Allure du Lac.
*One bedroom has a single bed.